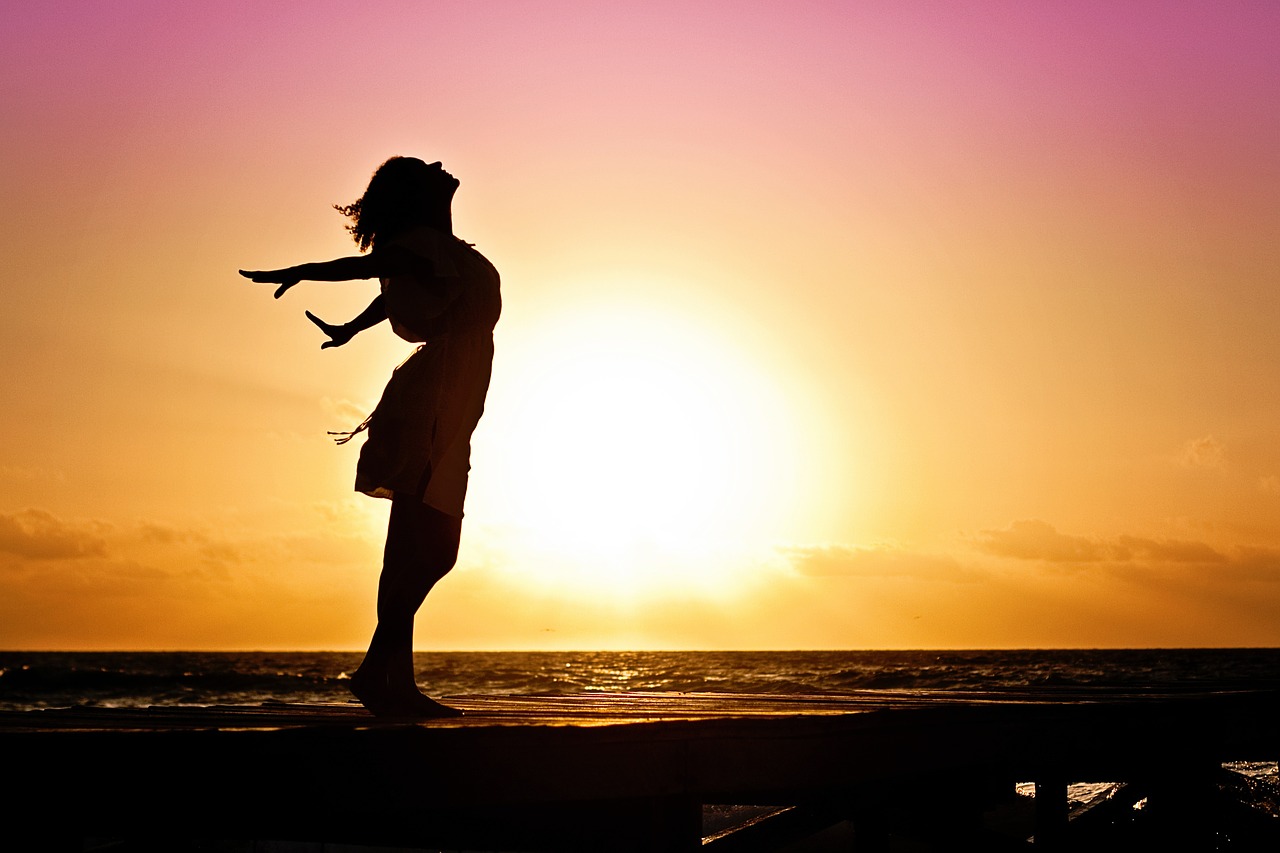 "Because I'm happy… Clap along if you feel like happiness is the truth!"
Pharrell William's song, "Happy," is so catchy and fun. It makes us feel happy just by listening and dancing to it. Happiness makes us feel so good. Why wouldn't we want to be happy?
What is happiness? Get my dream job, and then I'll be happy. Buy my dream house, and then I'll be happy. Find my soul mate, and then I'll be happy. Have a certain number in my bank account, and then I'll be happy. "If it feels good, do it!" At every turn, our society pounds the idea of happiness in our heads as if it is the end-all-be-all of our lives.
But, the truth is, happiness is elusive. It only lasts a moment because it is defined by our external circumstances. Happiness literally comes from the word "hap," which means "chance" or "luck." Even in our modern dictionary, happiness is defined as "characterized by good fortune." (http://www.thefreedictionary.com/happy )
Our happiness can change from day to day and moment to moment. We have our dream job or get that promotion, and then we have a run-in with our boss or co-workers. Happiness now… zero. We find our soul mate and get married, but we hit a rough patch in our relationship and we question whether we made the right decision. Happiness now… gone.
"Christian life is not just one big party. Not at all!" Pope Francis said. "We cry, we cry so many times… When we are sick; when we have a problem with our son, in the family, with our daughter or wife, or husband." He said another type of sadness comes "when we take the wrong road" and try "to buy (the) happiness, joy, of the world, of sin…"
Happiness in and of itself isn't wrong, but it shouldn't be "the thing" that we are seeking. If we make decisions by asking – "what will make me happy?" – that is a bad decision making process. Happiness should not be our guiding light.
But, only keeping those things in our life that makes our lives happy makes sense. Not feeling the job? Quit. Not loving your spouse? Divorce. It's so easy! Just eliminate the source of unhappiness, and then you'll be happy. Right?
Wrong. For the rest of the world, this may be an option. But, as followers of our Lord, God calls us to higher things. We are called to pursue virtues – moral excellence.
"The world offers you comfort. But you were not made for comfort. You were made for greatness." Pope Benedict XVI
God wants to push us out of our comfort zone. He wants to stretch us to become more holy and the best version of ourselves. But, to become the best version of ourselves, we need to carry our cross. And, carrying our cross doesn't equal happiness. It means suffering.
If we knew the value of suffering, we would ask for it on our knees with joined hands.
St. Andre.
Do you want to become a great saint? Ask God to send you many sufferings.
Saint Ignatius of Loyola.
When it is all over you will not regret having suffered; rather you will regret having suffered so little, and suffered that little so badly.
St. Sebastian Valfre.
Wow. I think we get the picture. The Christian life means that, not only is suffering a part of our life, but we should actually desire it to become more holy. To become the best version of ourselves.
Even Stanford professors, in the Journal of Positive Psychology in 2013, have recognized that solely pursuing a life of happiness leads to a meaningless life. Those who only pursue happiness and not a meaningful life are "takers," not "givers" to society. They write: "Happiness without meaning characterizes a relatively shallow, self-absorbed or even selfish life, in which things go well, needs and desires are easily satisfied, and difficult or taxing entanglements are avoided." http://faculty-gsb.stanford.edu/aaker/pages/documents/somekeydifferenceshappylifemeaningfullife_2012.pdf
Why would anyone want to follow Christ if it means suffering? Suffering produces character and matures our faith. Either in this life or the next, we will suffer. In this life, we can choose to suffer for Christ, but gain eternal life. Or, we can choose to reject him and then suffer in the next.
But, doesn't God want us to be happy? Yes, He does! God definitely wants us to be happy. But, happiness isn't the thing we should be pursuing. If we did everything that made us happy at one particular moment, our life would be a mess. We could never hold a job because we would flee the second we ran into problems. We would never commit to marriage because it would mean a lifetime of "for better or for worse."
Instead, we should pursue joy.
"Consider it pure joy, my brothers, whenever you face trials of many kinds, because you know that the testing of your faith develops perseverance. Let perseverance finish its work so that you may be mature and complete, not lacking anything." James 1:2-5.
"What is this joy?" Pope Francis says, "Is it to be happy? No, it is not the same. To be happy is good, yet joy is something more. It's another thing. Something which does not depend on external motivations or passing issues. It is more profound. It is a gift. To be 'happy' at all moments at all costs, can at the end turn into superficiality and shallowness. This leaves us without Christian wisdom, which makes us dumb, naive, right? All is joy… no."
"Joy is something else… it is a gift from the Lord." Pope Francis then continued to say that joy has to be searched for and shared continuously. It is something static and always in continuous movement.
Joy is not only a gift, but, also a choice. Joy must be pursued in order to receive it. St. Francis of Assisi said that "Spiritual joy arises from purity of the heart and perseverance in prayer."
"Don't feel like you're a particularly joyful person? You can do something about it." Curtis Martin explains, "Like building a muscle through repeated weight lifting, joy is strengthened by practicing natural virtues. God's gift of grace builds on nature, so by developing virtue, the treasure of divine life (cf. 2 Pet. 1:4) flourishes within our hearts. But this takes consistent effort. It means we must work to acquire fortitude, so that we don't give up when things become difficult." http://www.ewtn.com/library/SPIRIT/NOTPOUT.TXT
Joy is not only a choice, but an obligation. "Rejoice always, pray constantly, give thanks in all circumstances; for this is the will of God in Christ Jesus for you." 1 Thessalonians 5:16-17.
When we have true joy in our lives, many times happiness will naturally flow from our joy because happiness is a by-product of joy. Pursuing joy will not always make us happy at every moment in our life. And, pursuing joy means we will encounter suffering. But, a lifelong pursuit of joy will produce many happy moments. Laughter, fun and cherished memories with family and friends, a warm embrace, a child's smile, a loving glance.


These happy moments, produced from pursuing joy, are ours for the keeping.